Grand Siyum- Celebrating 74 Siyumim!
On Monday June 1st, the Mesivta recognized 47 talmidim who completed 74 masechtos of Shas or Sedarim of Mishnayos over the course of the school year. 
Over 150 parents, grandparents and relatives were invited to celebrate this achievement together with the masaymim and their Rabbeim. The guest speaker of the evening was Rabbi Yaakov Feitman, Rav of Kehillas Bais Yehuda Tzvi of Cedarhurst. Rabbi Feitman spoke about the need for chizuk, regardless of the person's madreiga. 
Yasher Koach to Rabbi Yossi Bennett and Rabbi Tsvi Greenfield for organizing this momentous event. 
CLICK HERE TO READ THE JEWISH HOME ARTICLE
Yeshiva Gedolah Breakfast- Standing Room Only
 On Sunday Yeshiva Gedolah Ateres Yaakov held its inaugural    Breakfast Reception, at the home of Mr. & Mrs. Ariel Aber in    Lawrence.  In a beautiful display of Kavod HaTorah, as a standing room only  crowd of the Hanhalla, Rabbeim, fathers, local Rabbonim, Bnei Hayeshiva, and members of the community joined together to support this special Makom Torah! 
Click on the video to view footage of Breakfast.
Dinner – Building The Community, One Talmid At A Time.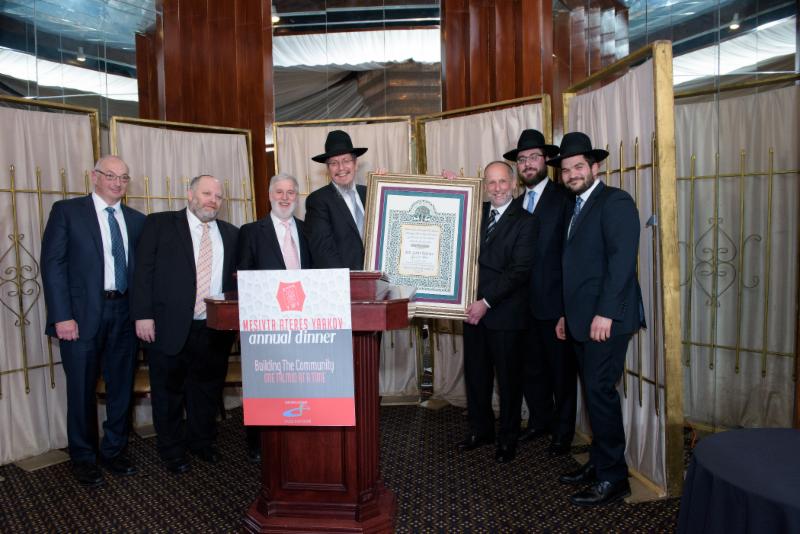 Mesivta Ateres Yaakov held its annual dinner this past Sunday evening, April 26th at Congregation Ohr Torah in North Woodmere. The Yeshiva celebrated with parents, alumni, and friends who came to pay tribute to an institution that encompasses a community high school, a yeshiva gedolah, a kollel, and a growing community kehillah.
The honorees included Guest of Honor, Mr. Gary Schall, Superintendent of the Lawrence School District, Parents of the Year, Dr. Eyal & Mrs. Alla Waldman, and Community Service Awardee Dr. Eli Shapiro. Rabbi Rafael Stefansky, a veteran Rebbe in Mesivta, was presented with the Harbotzas Torah Award in
Read more: Dinner – Building The Community, One Talmid At A Time.
Creative Writing Contest
All students had the opportunity to write a mandatory short story or poem on any appropriate subject. The topic was open-ended, and gave the students a chance to be creative.
Congratulations to the winners!
1st Place: Elazar Abrahams 
2nd Place: Yehuda Teitelbaum 
3rd Place: Yoni Ben-Zvi 
Honorable Mentions: Tzvi Adler, Yehoshua Sinensky & Mordechai Derdik
10th Grade:
1st Place: Joseph Halpern
2nd Place: Shmuel Maltz
3rd Place: Shmuel Brier
Honorable Mentions: Eli Banayan & Eli Rekant

11th Grade:
1st Place: Betzalel Shapiro
2nd Place: Shmuel Berger
3rd Place: Moshe Dembitzer
Honorable Mentions: Shaya Maltz, Baruch Eisenberger, Naftali Goldschein & Shaya Gross
12th Grade:
1st Place: Aryeh Korn
2nd Place: Ari Edelstein
3rd Place: Auriel Chamoulien
Honorable Mentions: Dani Feit, Aryeh Horowitz, Davi Levene & Yosef Samson 
Annual Pre-Pesach Yarchei Kallah
It was a pleasure to see our alumni return to the Mesivta during Yarchei Kallah week. We are so proud of our alumni and it was a wonderful opportunity to see how they are doing.
Thank you to Rabbi Wolf, Rabbi  Braunstein, Rabbi Tarkieltaub, Rabbi Edelstein, Rabbi Robinson, Rabbi Sprung, Rabbi Greenfield and Rabbi Sandler for giving their time to the alumni and for their inspiring shiurim.
A special Yasher Koach to Rabbi Bennett for organizing a very successful Yarchei Kallah week. The Beis Medrash will be open to all the talmidim and alumni throughout the Pesach vacation.