Mesivta Football League Season 3 Championship – MAY Eagles Win!
The Mesivta Football League brought its third season to a close on Sunday, March 8th. From beginning to end, it was an exhilarating experience for all participating yeshivos. Every Sunday afternoon throughout the long, cold winter, teams arrived for their games at Lawrence High School, Aviator Sports and Events Center or Calvert Vaux Park in Brooklyn pumped and excited to represent their schools in competitive flag football. Games were intense, but menchlich, with tremendous sportsmanship displayed week in, week out by all teams. In the end, although unanimously all teams had an enjoyable season, the League would like to congratulate Coach Josh Rahmanan, Assistant Coach Natan Cohen and there MAY Eagles on winning this season's MFL championship.
Read more: Mesivta Football League Season 3 Championship – MAY Eagles Win!
Dinner – Building The Community, One Talmid At A Time.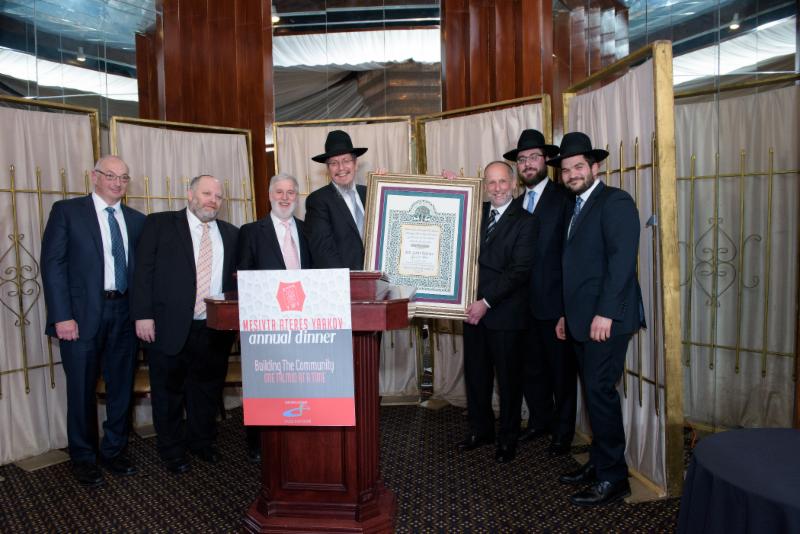 Mesivta Ateres Yaakov held its annual dinner this past Sunday evening, April 26th at Congregation Ohr Torah in North Woodmere. The Yeshiva celebrated with parents, alumni, and friends who came to pay tribute to an institution that encompasses a community high school, a yeshiva gedolah, a kollel, and a growing community kehillah.
The honorees included Guest of Honor, Mr. Gary Schall, Superintendent of the Lawrence School District, Parents of the Year, Dr. Eyal & Mrs. Alla Waldman, and Community Service Awardee Dr. Eli Shapiro. Rabbi Rafael Stefansky, a veteran Rebbe in Mesivta, was presented with the Harbotzas Torah Award in
Read more: Dinner – Building The Community, One Talmid At A Time.
MAY Annual Mid-Winter Ski and Paintball Trip
On Thursday, February 12th, Mesivta Ateres Yaakov held their annual mid-winter ski, snowboard and paintball trip for the entire yeshiva. Organized by Student Activities Coordinators, Rabbi Shlomo Drebin and Rabbi Tsvi Greenfield, the 190 talmidim, together with their Rebbeim spent the day at Mountain Creek Ski Resort and Long Live Paintball culminating in a New Jersey Dougies' catered dinner and a special siyum on Seder Mo'ed.
Creative Writing Contest
All students had the opportunity to write a mandatory short story or poem on any appropriate subject.  
The topic was open-ended, and gave the students a chance to be creative.
Congratulations to the winners! 
9th Grade: 
1st Place: Elazar Abrahams 
2nd Place: Yehuda Teitelbaum 
3rd Place: Yoni Ben-Zvi 
Honorable Mentions: Tzvi Adler, Yehoshua Sinensky & Mordechai Derdik
10th Grade:
1st Place: Joseph Halpern
2nd Place: Shmuel Maltz
3rd Place: Shmuel Brier
Honorable Mentions: Eli Banayan & Eli Rekant
11th Grade:
1st Place: Betzalel Shapiro
2nd Place: Shmuel Berger
3rd Place: Moshe Dembitzer
Honorable Mentions: Shaya Maltz, Baruch Eisenberger, Naftali Goldschein & Shaya Gross
12th Grade:
1st Place: Aryeh Korn
2nd Place: Ari Edelstein
3rd Place: Auriel Chamoulien
Honorable Mentions: Dani Feit, Aryeh Horowitz, Davi Levene & Yosef Samson 
Annual Pre-Pesach Yarchei Kallah
It was a pleasure to see our alumni return to the Mesivta during Yarchei Kallah week. We are so proud of our alumni and it was a wonderful opportunity to see how they are doing.
Thank you to Rabbi Wolf, Rabbi  Braunstein, Rabbi Tarkieltaub, Rabbi Edelstein, Rabbi Robinson, Rabbi Sprung, Rabbi Greenfield and Rabbi Sandler for giving their time to the alumni and for their inspiring shiurim.
A special Yasher Koach to Rabbi Bennett for organizing a very successful Yarchei Kallah week. The Beis Medrash will be open to all the talmidim and alumni throughout the Pesach vacation.